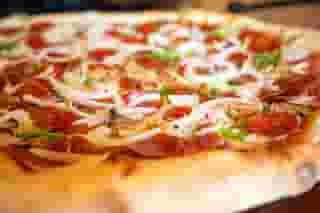 Delicious Italian food in Hampden, MA and surrounding areas
With our doors open to the public since 2011, Gio's Pizzeria has remained a premier family-owned and operated Italian restaurant happily serving East Hampden, Massachusetts it's pizza. Giovanni Cirillo, our general manager, has been expertly cooking delicious pizza pies for over 15 years. His wife, Tiziana Cirillo, has over 25 years of restaurant experience as well. Gio's Pizzeria proudly continues to support the local community and has participated in past events such as the ACS Relay For Life and Rays of Hope Walk for breast cancer research. We love our community and happily serve residents in the East Longmedow, Wilbraham and Somers, CT, areas.
We know Italian food
And our diverse menu will keep you coming back for more. With over 40 years of combined experience when it comes to customer satisfaction, Gio and Tiziana like to let the food at Gio's Pizzeria speak for itself. We offer delicious gourmet pizza, wraps and garlic bread. Pair one of our calzones with some of our awesome beer or wine at our bar, or stop by for some carryout. We've even got Mexican dishes on our menu. We'll happily offer catering for your special occasions with some of our scrumptious seafood options or simply prepare the food for you when you order ahead. Come in and have lunch with us! Walk-ins are welcome any time, and we also offer free delivery for your take-out orders.
Pizza The Way YOU Want It
Be Yourself At Gio's Lounge