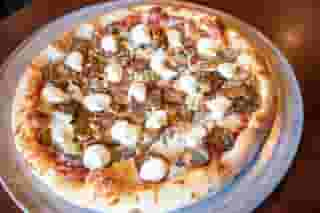 Serving Premier Italian Pizzas In Hampden, Massachussets
Italian food is what we know. We pride ourselves on our unique specialty pizzas and our delicious grinders. We've been perfecting our recipes and providing our food to Hampden for years. We offer all kinds of delicious options including grinders, wraps, salads, wings and lighter options. We also offer catering, so you can enjoy our delicious Italian food at all of your special occasions. Whether you're a regular or visiting us for the first time, keep us in mind the next time you're feeling hungry. Even if you're coming from East Longmedow or Wilbraham, we'll find just the right place in our dining room and get you set with one of our awesome appetizers, meals or desserts, and we promise not to forget the ice-cold beverage to wash it all down. Walk-ins are welcome every day of the week!
We've Got More To Offer
Gio's Pizzeria also offers delivery and take out options, so you can enjoy our fine Italian food no matter what situation you're in. Ask us about catering for your next special event!
Some Of Our Customers Rave Reviews
"Have tried several of your pizzas and though they have all been fantastic, the Johnny Mac that we just had was absolutely AMAZING ..... !!! Ultimate "comfort food" pizza! Entire family loved it !!" 
- Jennifer J.

"Excellent food and quality service. I definitely recommend Gio's!" 
- Laura D'A.

"The best slices around!" 
- John Taylor
Gio's Pizzeria
9 Allen St
Hampden, MA 01036

Hours
Monday:
10:30 am - 12:00 am
Wednesday - Thursday:
10:30 am - 12:00 am
Friday - Saturday:
10:30 am - 1:00 am
Sunday:
10:30 am - 12:00 am